Menu
COBBLED LANES &amp CITY CAFÉS
Special Branch
Track Bike
Special Branch frame has a specifically tapered seat tube and bottom bracket construction to ensure amazing power transfer
Work and Play
This is no ordinary commuter. No curb-hopping fun bike, content with waiting outside the café while you chat coffee beans and turned-up trousers. It's not just art. Not merely a thing of beauty to hang from the office wall. It's not an answer to a running trend in stripped-down urban speedsters. Not a retro road bike with everything removed but the parts that propel it forwards. It is not lavish, over-thought or ridiculous.
It is in fact, all of these things and that is why you should own it. Ride it. Curb hop it. Take it for coffee and yes - hang it on your wall. We challenge you not to! And is it ridiculous...? Well, so were the first bikes ever made and look where they brought us. There is beauty in simplicity and taking inspiration from classic track bicycle geometry - we believe we have created one unique piece of velo art.
Single Speed Performance
Like all our models, first and foremost comes the cycling experience. Our Special Branch frame has a specifically tapered seat tube and bottom bracket construction to ensure amazing power transfer. Combined with slim and flattened seat stays which take the edge of rough pavement. This frame handles the urban street and velodrome with equal ease. Take one for a spin. You will not feel anything else like it.
Individual to You
As each frame is made for you the customer and not mass produced, we have the luxury of interacting with our customer and building a frame to their needs. Want your Special Branch with rear brake and mud guard mounts? No problem, get in touch and let us know.
Standard sizes: S, M and L
Complete bikes available Want One?
Bespoked 2013
Woodelo - Best New Builder
Bespoked 2014
Woodelo - Best Alternative Material
Bespoked 2014
Woodelo - Public vote for best in show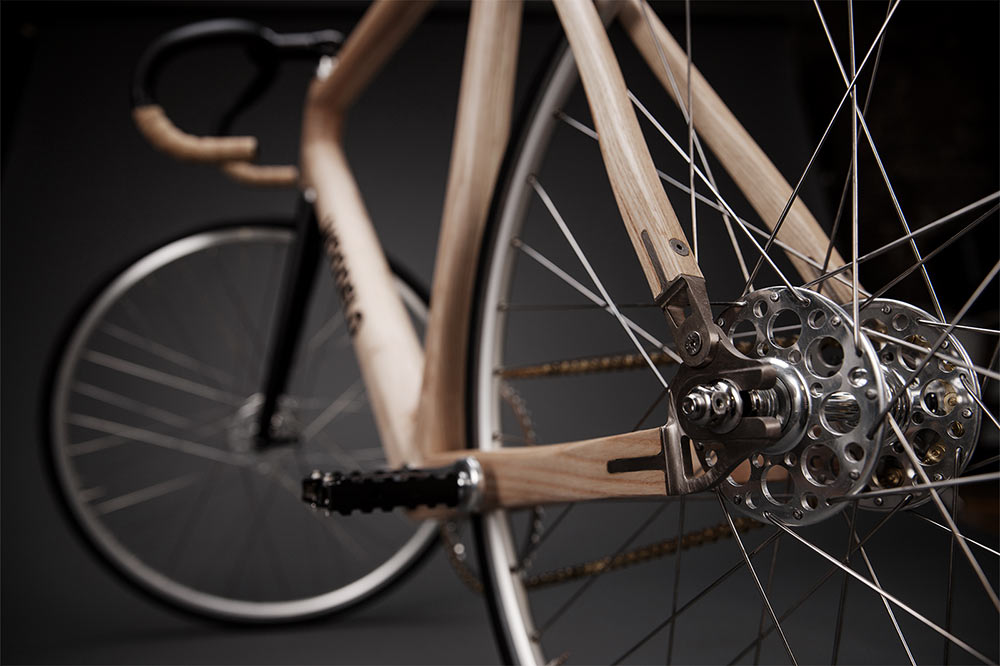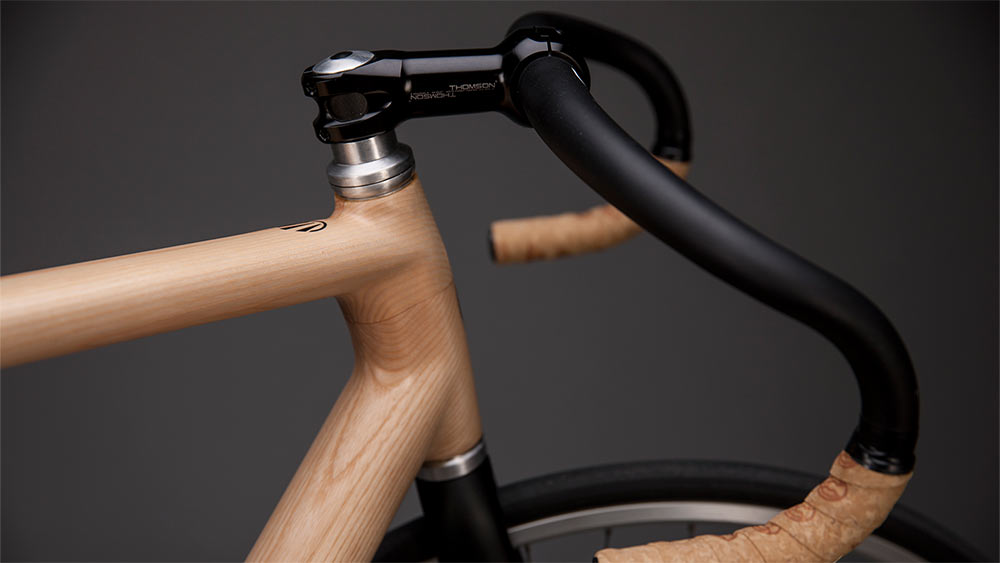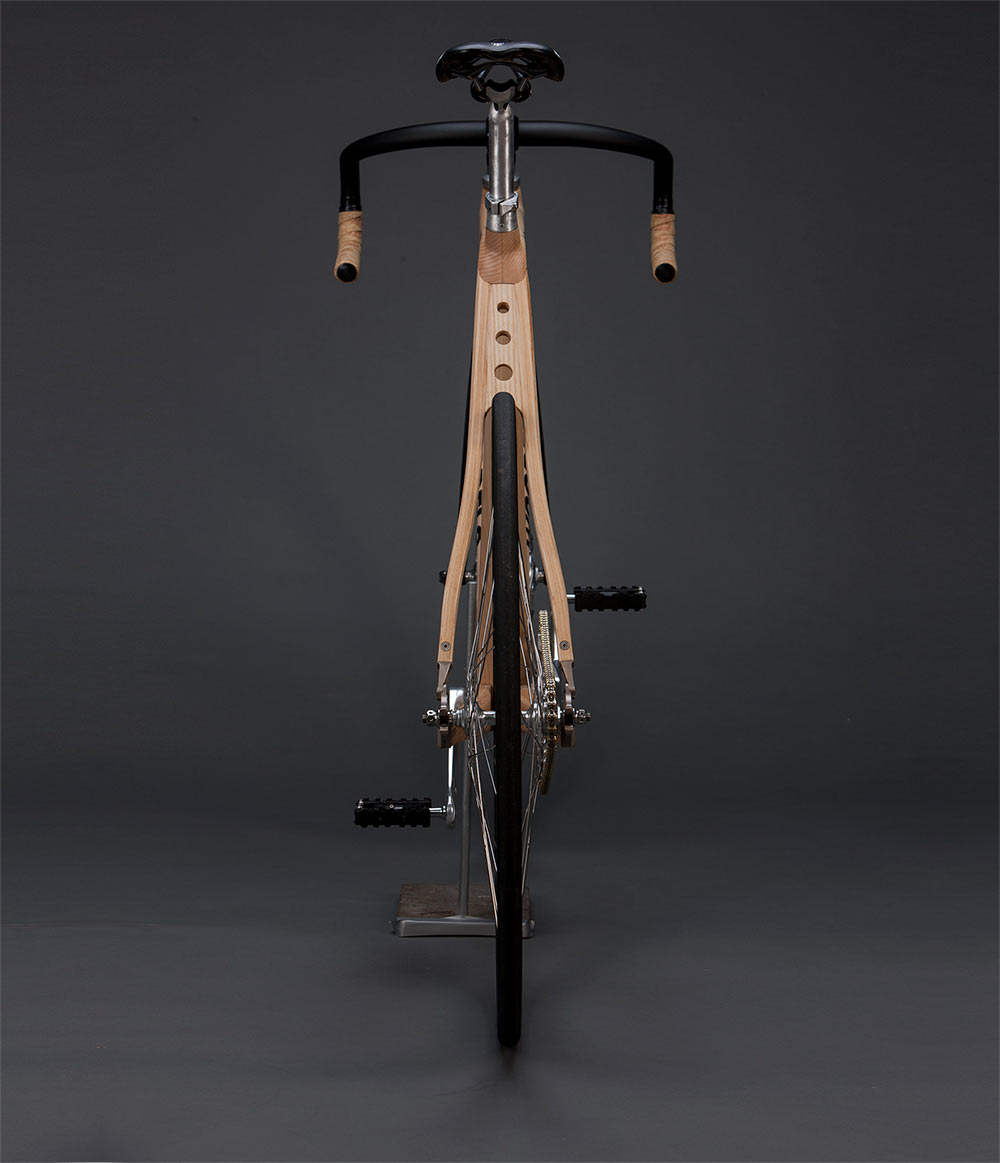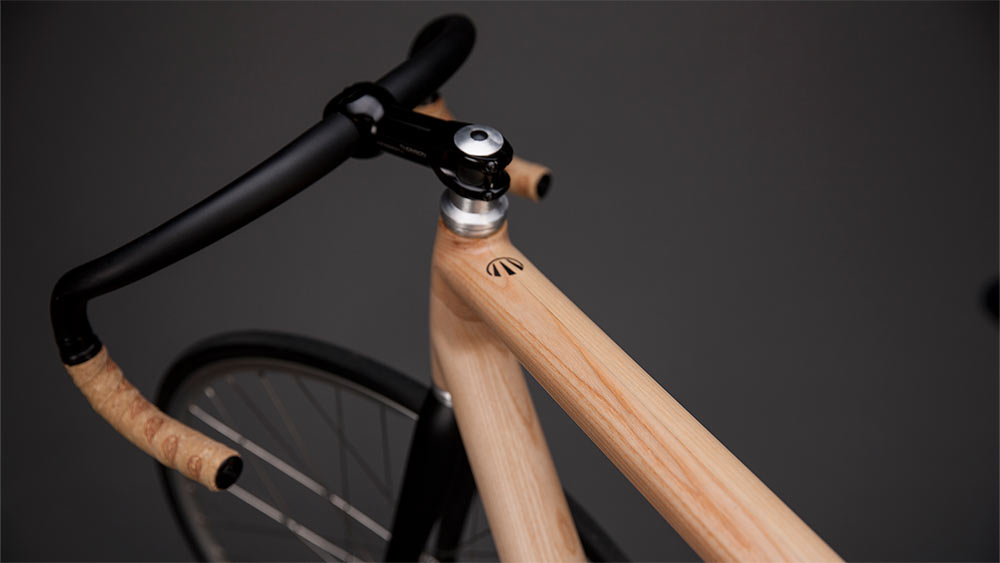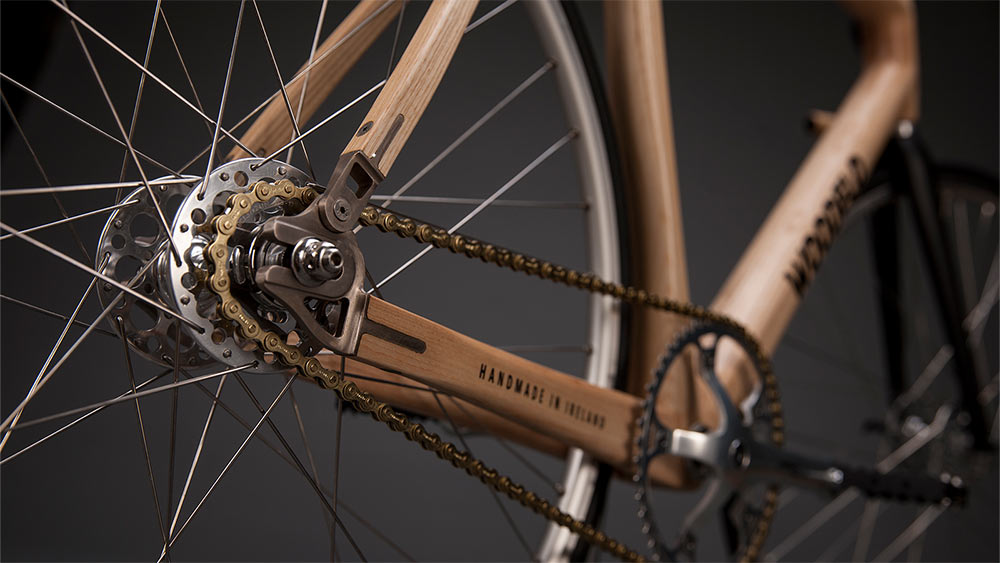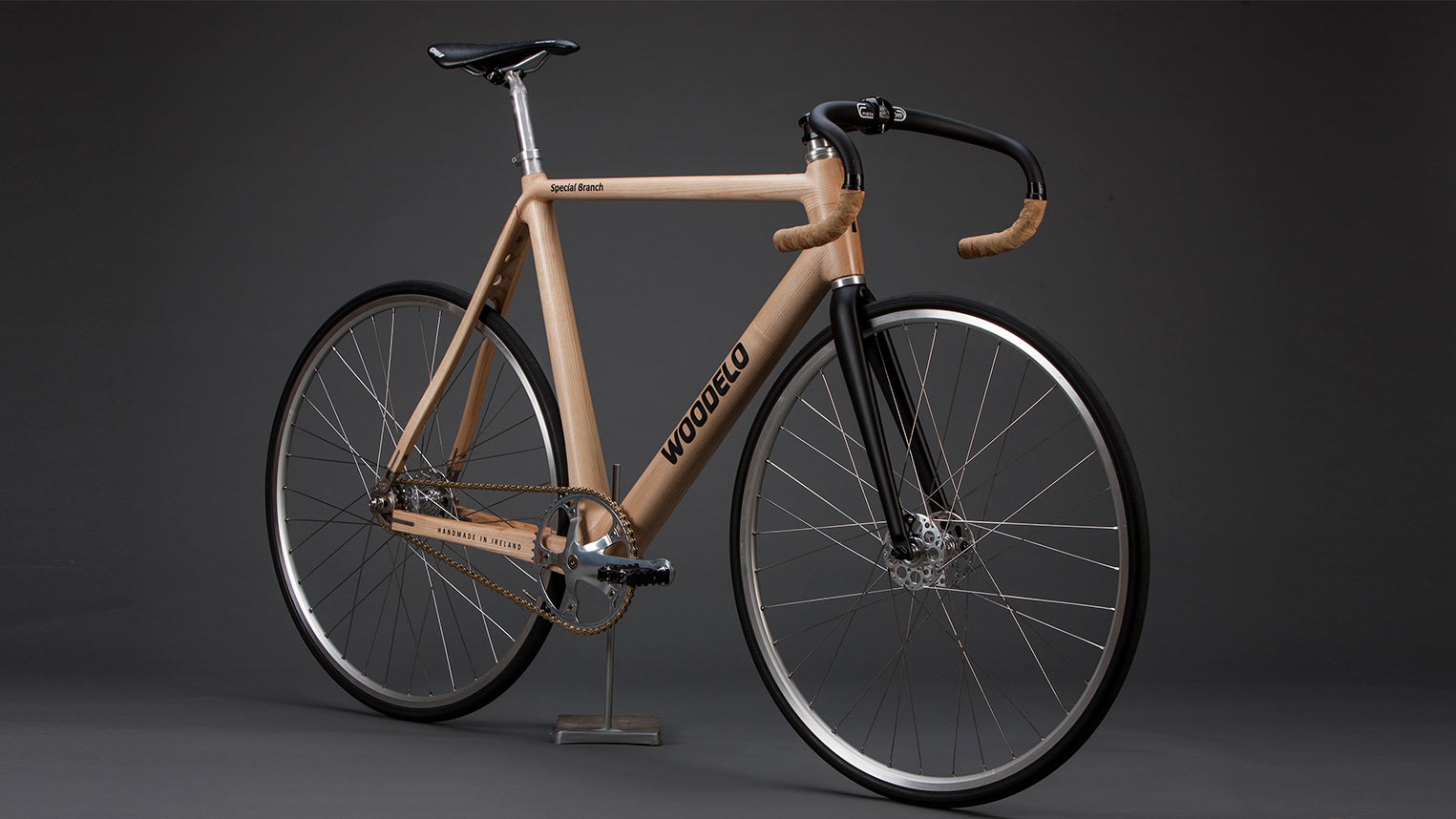 Overview
Special Branch is our take on a track frame. Re-designed tube profiles with simpler profiles and traditional track geometry it is equally at home on the track or around town. Just make sure your skills are up to it, because as standard there are no rear brake mounts on the frame!
Without the clutter of geared drive trains and brakes the clean lines of the bicycle allows the natural beauty of the Ash to shine through.
Features
BB Design: The bottom bracket is crucial to pedalling efficiency and as one of the frame areas subject to the greatest stress, Special Branch has a unique assembly that ensures maximum power transfer and durability.
Tuned Stays: To complement the natural damping qualities of Ash the rear stays are shaped to resist lateral pedalling stress, whilst ensuring a a compliant ride and isolating the riding in a unique way from road vibrations.
Super Tough Finish: With both epoxy and polyurethane coatings applied, frames are completely protected from the elements and can be treated like any other frame in terms of cleaning and protection products.
Specifications
Frame:
Bottom Bracket standard English Threaded
Head tube 1 1/8
Seat Post 27.2
No front derailleur mount
Rear drops Horizontal
Frameset:
Special Branch Frame
Seat Clamp
Carbon fork
Chris King Headset
Fact 04
Durable
Being less dense than metal and carbon fibre gives wooden frames an advantage in impact resistance.
Awards
Who doesn't like a pat on the back now and then. And what better boost than picking up a couple of awards at the recent Bespoke Bike Show last year. But don't just take the judges final word... check out one of our bikes for yourself and see what all the fuss is about!
How to Order
Contact Woodelo directly to order your bike. Just email us, or pick up your phone and give us a call. We would love to hear from you.
info@woodelo.ie +353 51347644