Menu
STRONG, STIFF & SUPER SMOOTH
The unique damping characteristics of our specially selected Ash combined with innovative frame shaping result in significant reduction in road vibration
Unique Ride Quality
Leaf Speed - combining the traditional material of Ash wood with modern craftsmanship, the Leaf Speed is our unique take on the ideal road frame. Our vision was to make a frame that didn't beat the rider up, but made them feel in control and rewarded every watt of effort.
Performance by Design
The Leaf Speed needs to be tested to discover its unique qualities. On the road it feels and sounds like a high end carbon frame. It climbs with the responsiveness of the stiffest performance carbon machines. It corners and descends with ease and confidence. But where the real difference lies is in the subtle 'softness' of the ride. The unique damping characteristics of our specially selected Ash, combined with some very clever frame-shaping, result in significant reductions in road vibration. For example, the rear stays are specifically shaped to resist lateral pedalling stress ensuring a compliant ride. We align and increase the volume of material in key frame areas to increase pedalling and steering performance. This, among other smart engineered features, means less fatigue throughout your body, allowing you to pedal smoothly over the roughest roads and, importantly, for longer. The Leaf Speed is truly designed for performance.
Stand Out
The Leaf Speed performance qualities are matched by its stunning design aesthetic. While the engineering and solving 'the numbers' actually excites us, we are of course bikers at heart - so each line, curve and join gets hours of our attention. This time spent hand-shaping in the workshop translates to a lot of attention out on the road. We often say 'Our bikes sell our bikes', so they've got to look great in motion.
One and Only
Each frame is made for you, the rider, and not mass-produced like so many others. We have the pleasure of speaking with our customers and building a frame to their needs. So let's say you need your Leaf Speed with custom geometry and mud-guard mounts for the 'soft' days in the saddle - no problem.
Standard sizes: XS, S, M, ML, L and XL
Custom sizes: As you wish.
Complete bikes also available. Want One?
Bespoked 2013
Woodelo - Best New Builder
Bespoked 2014
Woodelo - Best Alternative Material
Bespoked 2014
Woodelo - Public Vote for Best in Show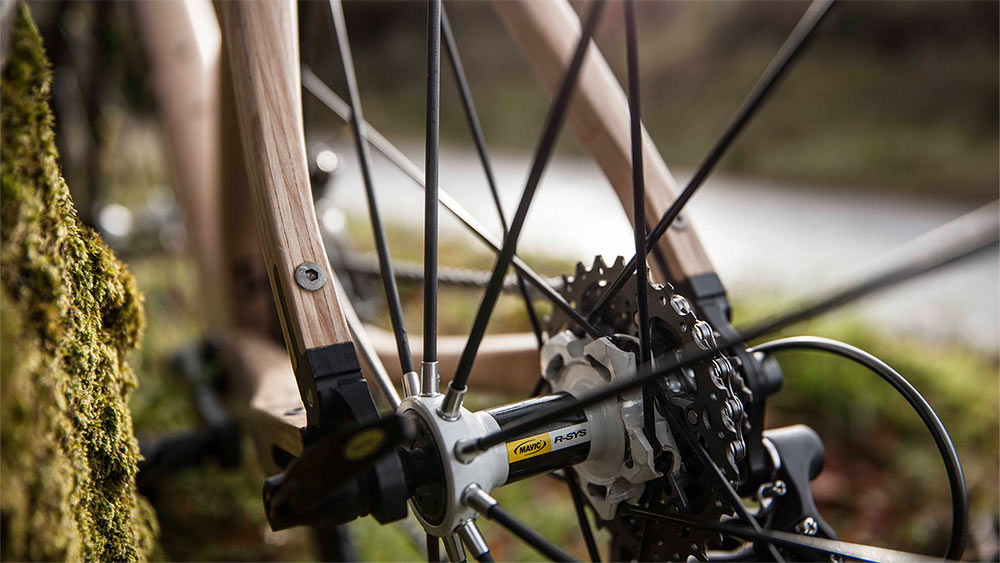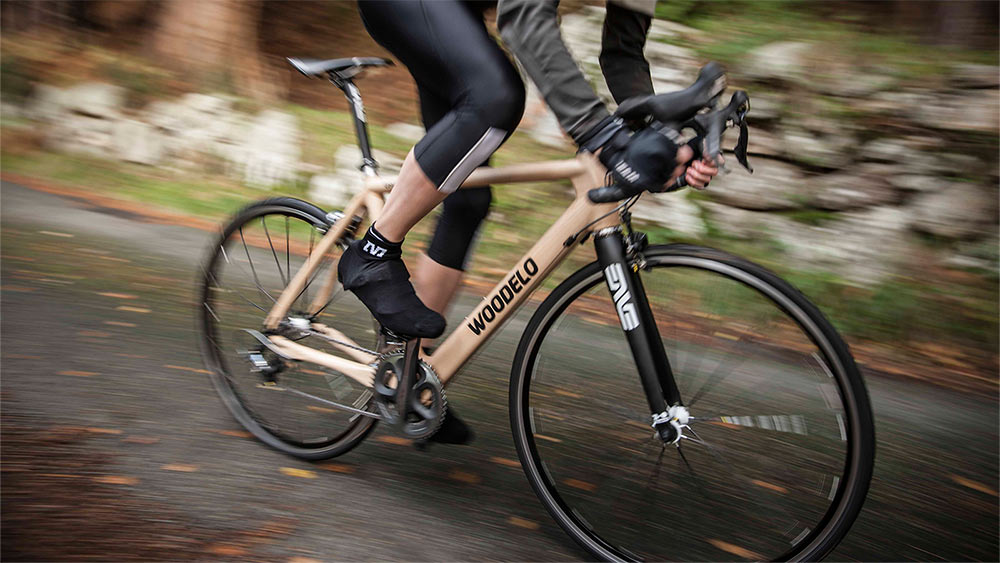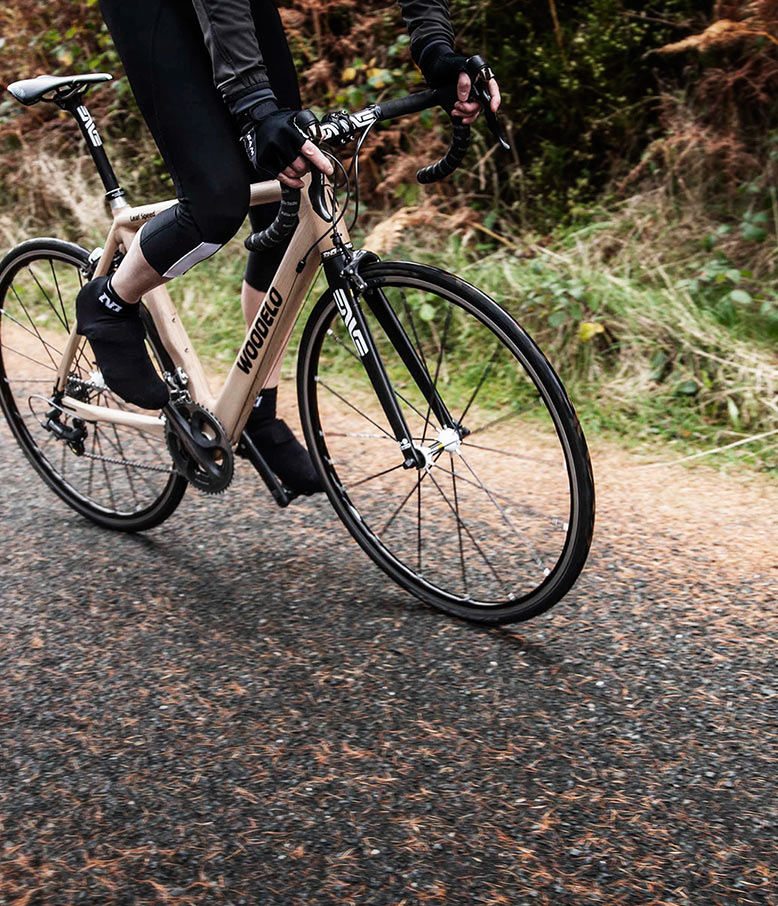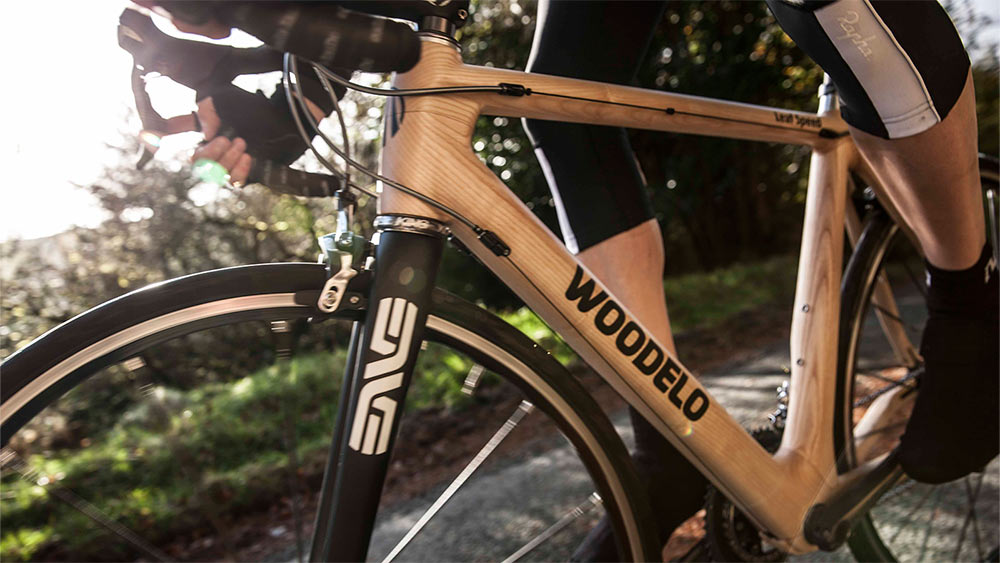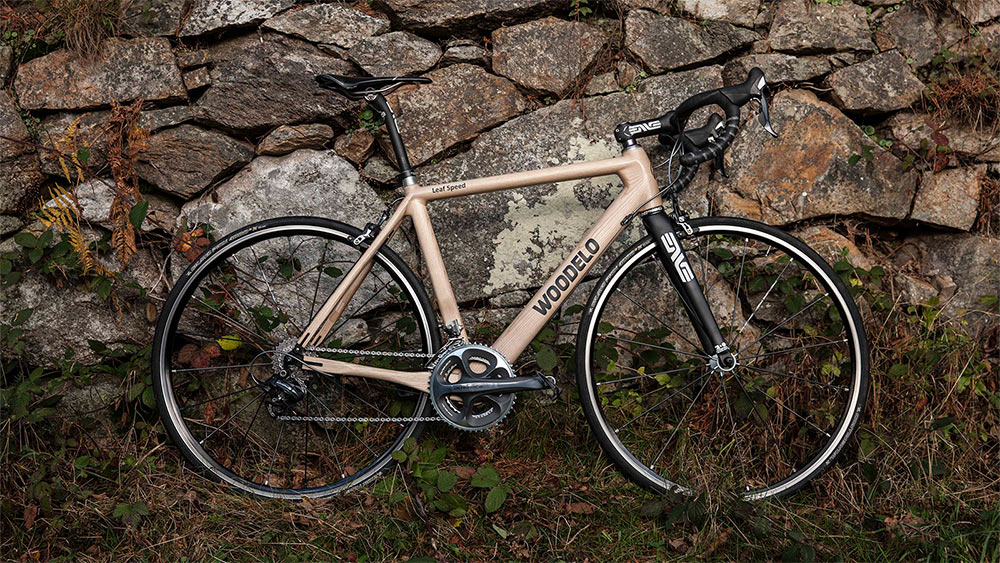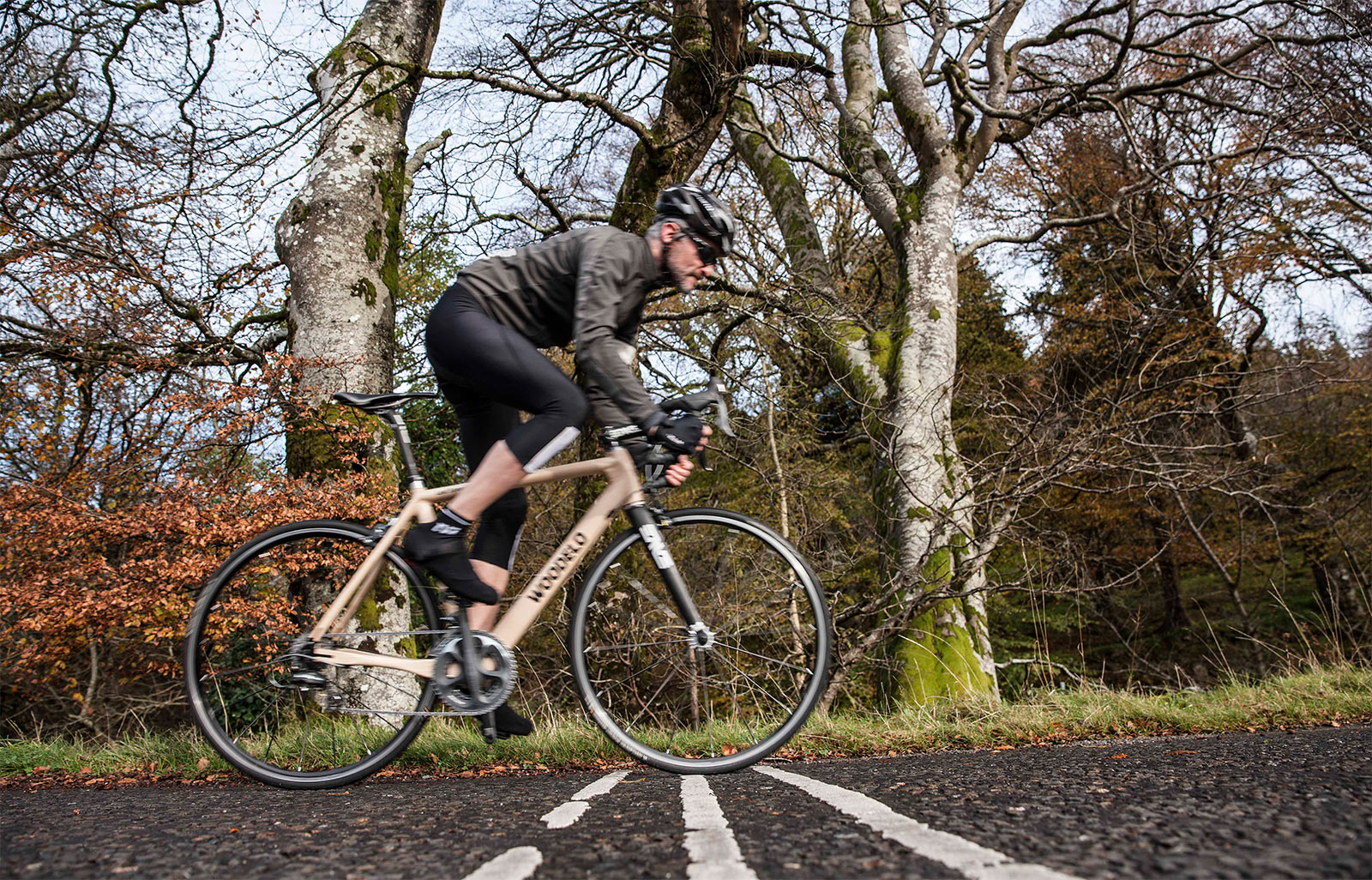 Overview
The Leaf is designed to be the perfect all round road bike, as comfortable in the flat lands as it is in the hills. Using the unique damping characteristics of Ash and some clever shaping, this frame soaks up road vibrations letting you pedal smoothly over the roughest road surface and take on long rides with greater enjoyment. You can race this frame or take it down to the local cafe, either way one thing is for sure you will draw a lot of attention!
Features
BB Design: The bottom bracket is crucial to pedalling efficiency and as one of the frame areas subject to the greatest stress, Leaf Speed has a unique assembly that ensures maximum power transfer and durability.
Tuned Stays: To complement the natural damping qualities of Ash the rear stays are shaped to resist lateral pedalling stress, whilst ensuring a a compliant ride and isolating the riding in a unique way from road vibrations.
Super Tough Finish: With both epoxy and polyurethane coatings applied, frames are completely protected from the elements and can be treated like any other frame in terms of cleaning and protection products.
Specifications
Frame:
Rear drops Horizontal
Complete bikes available also
Frameset:
Special Branch Frame
Seat Clamp
Carbon 1.5 tapered fork
Chris King i7 Headset
BB30 Pressfit bottom bracket
Semi-integrated headtube ID 44mm
Seat Post diameter 27.2mm
Replaceable rear derailleur hanger
Braze-on style front derailleur mount
Fact 01
Strong, Stiff
Wood is a naturally stiff and sturdy material, due to the way it grows over time to resist forces from all directions.
How to Order
Contact Woodelo directly to order your bike. Just email us, or pick up your phone and give us a call. We would love to hear from you.
info@woodelo.ie +353 51347644